Romance Tips: 3 Romantic Date Ideas For You and The One You Love.
February 23, 2010 - 12:01 AM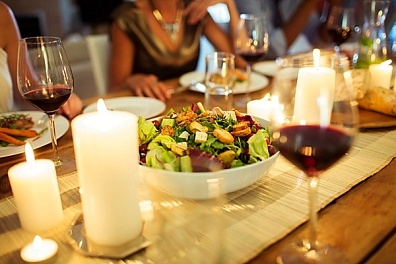 Romantic date ideas come naturally for some of you. For most others, we need lessons in romance. The fact is that we just don't know how to be romantic. It isn't because we shy away from it.
Nevertheless, dating idea help is on the way. The following 3 ideas you are about to discover will surely help you win the heart of the one you love. These ideas can also be used as a valentine's day idea. Be prepared to impress your new date or long term sweetie with an amazing experience using these romance tips.
1: Fun night.
Turn your date into a night of entertainment. You and your sweetheart can play classic board games such as Monopoly and Life or card games such as Uno. If you are more into the latest technology, then play video games with each other.
These games are the build up to a romantic evening as you can wind down and watch a movie. Go make yourself some delicious popcorn to share with your sweetheart. While watching the movie, sit close and cuddle up. The competition in the games earlier creates a unique bond between the two of you.
2: Dine in.
Turn your place into a romantic dinner. There is nothing more romantic than having a candle light dinner at your own table. You create the delicious food and go all out to set the mood. You can put pretty flowers into a beautiful vase to place on the table. You should also shower, smell good and dress to impress. Include a small bottle of wine with your table decorations.
Have soft and romantic music playing while you eat. Compose a small message on nice stationary paper for them to read. Let them know how special they are to you. Most important of all, make sure this is a total surprise so be careful not to say anything prior to dinner.
3: Dine out.
We are not talking about going to a restaurant. An outdoor picnic is just the surprise you need for your sweetheart. It may even be better than 10 romantic gifts. Outdoor picnics are old fashioned and go back to the times when life was much more simpler. You can prepare an outdoor picnic for breakfast or for lunch. You can possibly make dinner if the area you live in has light all day round.
You do not need to make it anything fancy. A simple tuna sandwich will do just fine. Make sure you plan the location accordingly and try to choose a place that is close to water or has a great view. Look for a place that will provide you with loads of privacy where you can sweet talk with your partner. Also bring a blanket that the two of you can sit on. If you can make the outdoor picnic a surprise, then you have a romantic event set up perfectly for you.